Our Story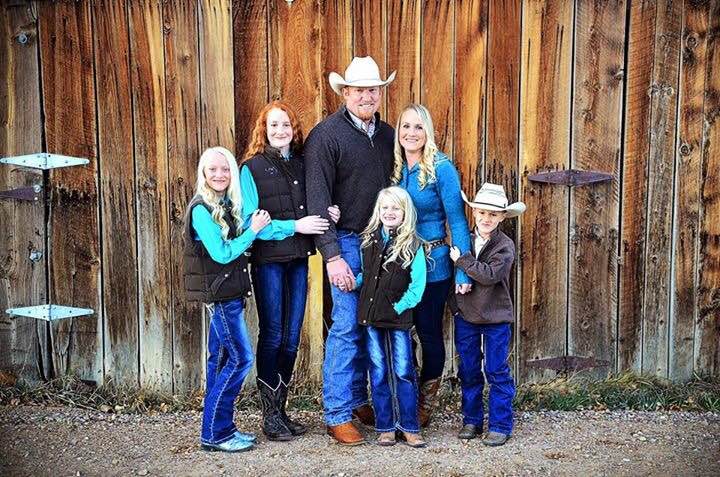 It was a cool spring morning when Bjorn and Shanna found themselves overlooking one of the most beautiful, pastoral landscapes in Northeastern Utah. The harmony of young, green grass intertwined with natural flowing springs caused Bjorn to envision his own cattle enjoying all the amenities this quiet pasture had to offer. Through hard work and dedication BlueTree Farms was officially born.

Today, BlueTree Farms has become a local UTAH favorite for providing naturally-delicious, grass-fed beef, grass-fed lamb, and pasture raised Kurobuta-Berkshire Pork. The national market has also spotlighted BlueTree Farms for raising quality, all natural meats.

BlueTree Farm's three-fold market emphasis has allowed them to excel without compromising quality. Whether you are looking for locally grown, grass-fed beef, grass-fed lamb, or pasture raised Kurobuta-Berkshire pork BlueTree Farms will provide!
Our Ranch
Our ranch is located in secluded and pastoral Northeastern Utah. Here our free-range livestock enjoy the best of everything. In a typical day our livestock can lounge under the shade of trees, drink from natural springs, and eat fresh chemical free grass. All of our livestock are free range, and never given antibiotics or growth hormones.

Our Ranch with cattle, sheep, and pigs allows for the land and livestock to live in balance with one another. Each type of livestock feed on different types of forage. This makes the land more productive and the livestock healthier.

So come see our Ranch and buy some meat that makes your mouth water!
Our Standards
When you buy our Utah grass fed beef and lamb from BlueTree Farms you can expect the following:

Flavor– Rich depth of flavor representative of the Uintah Basin area due to our unique climate, soils, and plants.
Finish– Livestock are allowed to grow and mature naturally, allowing for full marbling and excellent flavor.
Health Benefits– Higher in CLA content, high in Omega-3 and low in Omega-6 fatty acids make grass fed meat more "Heart Healthy" (Similar to the health benefits of fish).
Cleanliness– Utah pasture raised meat has a far better record for No e-coli or salmonella bacteria contamination. Processing is done locally under USDA inspection.
All Natural – Livestock at BlueTree Farms are never given antibiotics or added growth hormones. In the event an animal requires antibiotics it is separated from the herd and not sold for human consumption.
Truly a local product– Our livestock are not hauled to the midwest to be fattened on government subsidized corn, butchered in a (Brazilian owned) factory, and then trucked back through the chain of brokers and giant supermarkets. Our Utah grass fed meat is natural and of the highest quality.
100% Berkshire Pork– Kurobuta pork is considered to be equal in status to "Kobe Beef." We use only 100% purebred Berkshire hogs as mandated by the Japanese Ministry of Agriculture. All our pigs are pasture raised giving a depth of flavor not found anywhere else.

BlueTree Farms is celebrated world-wide by chefs and connoisseurs. Our family-owned business is focused on creating the most delicious beef, lamb and Kurobuta pork available.

Start enjoying quality, hormone free, grass fed meat today. We strive to raise the highest quality meat. Our beef and lamb is 100% grass fed and grass finished. Livestock here graze on open pastures and drink out of crystal clear springs. It is the perfect environment to grow the healthiest meat possible the way nature intended it.
Testimonials
Blue Tree Farms is the best. I hosted a cookout with some premium cuts of Blue Tree Farms beef to impress my boss. He loved them, and I got the promotion!

I was worried that getting natural free-range beef would be way too expensive, but I bought a quarter cow from Blue Tree Farms and I got even the expensive cuts for what I would expect to pay for hamburger.

Blue Tree Farms beef is a lot less greasy than the stuff I buy at the store, and I don't feel as sleepy or gross after I eat it.

I was afraid that natural beef would taste different than store-bought beef and my kids wouldn't eat it. It turns out it does taste different, it's a lot better and my kids love it!

I am always conscious of what I eat and how it is produced. Thank you Blue Tree Farms for making beef from high-quality, humanely treated cows affordable!